Earlier this month, Computex 2014 wrapped up in Taipei. And while this trade show may not have all the glitz and glamor of its counterpart in Vegas (aka. the Consumer Electronics Show), it is still an important launch pad for new IT products slated for release during the second half of the year. Compared to other venues, the Taiwanese event is more formal, more business-oriented, and for those people who love to tinker with their PCs.
For instance, it's an accessible platform for many Asian vendors who may not have the budget to head to Vegas. And in addition to being cheaper to set up booths and show off their products, it gives people a chance to look at devices that wouldn't often be seen in the western parts of the world. The timing of the show is also perfect for some manufacturers. Held in June, the show provides a fantastic window into the second half of the year.
For example, big name brands like Asus typically use the event to launch a wide range of products. This year, this included such items as the super-slim Asus Book Chi and the multi-mode Book V, which like their other products, have demonstrated that the company has a flair for innovation that easily rivals the big western and Korean names. In addition, Intel has been a long stalwart at Computex, premiered its fanless reference design tablet that runs on the Llama Mountain chipset.
And much like CES, there were plenty of cool gadgets to be seen. This included a GPS tracker that can be attached to a dog collar to track a pet's movements; the Fujitsu laptop, a hardy new breed of gadget that showcases Japanese designers' aim to make gear that are both waterproof and dustproof; the Rosewill Chic-C powerbank that consists of 1,000mAh battery packs that attach together to give additional power and even charge gadgets; and the Altek Cubic compact camera that fits in the palm of the hand.
And then there was the Asus wireless storage, a gadget that looks like an air freshener, but is actually a wireless storage device that can be paired with a smartphone using near-field communication (NFC) technology – essentially being able to transfer info simply by bringing a device into near-proximity with it. And as always, there were plenty of cameras, display headsets, mobile devices, and wearables. This last aspect was particularly ever-present, in the form of look-alike big-name wearables.

By and all large, the devices displayed this year were variations on a similar theme: wrist-mounted fitness trackers, smartwatches, and head-mounted smartglasses. The SiMEye smartglass display, for example, was every bit inspired by Google Glass, and even bears a strong resemblance. Though the show was admittedly short on innovation over imitation, it did showcase a major trend in the computing and tech industry.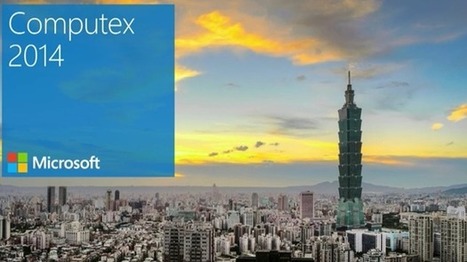 In his keynote speech, Microsoft's Nick Parker talked about the age of ubiquitous computing, and the "devices we carry on us, as opposed to with us." What this means is, we may very well be entering a PC-less age, where computing is embedded in devices of increasingly diminished size. Eventually, it could even be miniaturized to the point where it is stitched into our clothing as accessed through contacts, never mind glasses or headsets!
Sources: cnet.com, (2), (3), computextaipei.com